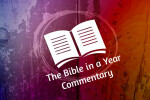 Week 51: December 17-23
Topic: Ephesians, Philippians, 1 & 2 Timothy, Titus, & Hebrews
Click Here to Download Daily Reading Guide:
This week we are finishing out the letters of Paul and beginning our journey through the general epistles (letters). The general epistles are simply ones that have a few different authors and the main difference is that they are not letters from Paul.
Ephesians was written to the town of Ephesus which was a prominent town in Asia Minor which is modern day Turkey. Paul spent about three years in Ephesus making it one of his hubs for missionary work as it was a port city. Paul expresses some of the core doctrines of the church to the people of Ephesus to continue to encourage and reinforce the time that he spent amongst them. This is another letter that Martin Luther leaned upon heavily as he was learning what it meant to be a Christian despite the teachings he had learned his whole life in the Catholic Church of his time. One of the core verses that we utilize from Ephesians comes in chapter 2:8-10, "For it is by grace you have been saved, through faith- and this is not from yourselves, it is the gift of God- not by works so that no one can boast. For we are God's workmanship, created in Christ Jesus to do good works, which God prepared in advance for us to do." Paul encourages us that there is nothing within us that brings our own salvation that is totally from God through Jesus. However, the next point is that after we have received this great gift from God, He has some work for us to do! It is something we do solely out of gratitude and thankfulness for the gracious gift that God offers to each of us, our very life! God has secured us eternally and even prepared the good things for us ahead of time so that we can benefit and help to build His kingdom. Paul continues to talking about the different gifts that the Holy Spirit gives to us through faith that we are to use to build the kingdom. The emphasis again like in 1 Corinthians is on the relationships where none of the titles or gifts are better than any of the others. They are simply different assignments for people on the same team. Chapter 5 of Ephesians finishes off with some instructions for family living for husbands and wives, children and parents, and employees and employers into chapter 6. Each of these sections show the necessity of love, grace, and respect to follow both ways for each of the participants in the grouping. It can be easy to take any of these verses out of context and create a picture of life that is very unhealthy. In fact, this used to be one of the more popular verses read in weddings, however in my own experience is rarely used as a wedding text anymore. It is useful to see the fact that for the spouses that both are to be giving wholly of themselves to better their spouse even for the guys according to Paul to the point of death. One of my favorite sections of Ephesians is the Armor of God which is in the middle of chapter 6 where Paul encourages the people to think about putting on their military armor daily to fight off the temptations and assaults of the devil. I believe it something helpful still today to be aware of the things that God gives us to be protection from the challenges we face every day in our journey of faith.
Philippians was written during the time Paul was imprisoned for his faith. He writes to the Philippians to give thanks for their gift and support during the difficult time. Philippi was a major Roman colony that was a place of retirement for many of the military men in the Roman army. Living in Philippi gave its citizens dual citizenship in Rome and also in Greece which is an important attribute during that empire as there were many privileges afforded to those who held Roman citizenship. Paul updates the people on his current condition and outlook while continuing to encourage them to keep strong in their faith. Paul prepares them for the coming of Timothy to serve and watch over them for some time as a pastor and encourager in the faith. My favorite verses from this book are 4:4-9, "Rejoice in the Lord always. I will say it again: Rejoice! Let your gentleness be evident to all. The Lord is near. Do not be anxious about anything, but in every situation, by prayer and petition, with thanksgiving, present your requests to God. And the peace of God, which transcends all understanding, will guard your hearts and your minds in Christ Jesus. Finally, brothers and sisters, whatever is true, whatever is noble, whatever is right, whatever is pure, whatever is lovely, whatever is admirable—if anything is excellent or praiseworthy—think about such things. Whatever you have learned or received or heard from me, or seen in me—put it into practice. And the God of peace will be with you." Paul uses these words to encourage them and us to continue to see God's faithfulness and excellence throughout the world even in the midst of suffering (Paul was in prison while penning these words). Paul also gives us something to hold onto when the more difficult moments in life happen. He encourages us to back to the pure, noble, lovely praiseworthy things and meditate on them. All too often we allow ourselves to meditate on the things that are causing us stress and pressure, which has the effect of only making our situation worse in our mind. When we free ourselves to let go of those stressful thoughts and think about the good things God has done, I believe God works to bring His peace. The one that passes all understanding into our hearts, minds and lives. It makes those difficult moments bearable because we know that there will be another day. There will be something better on the horizon because we have a good and gracious God who loves us dearly!
Timothy is a series of two letters written by Paul to a young man that Paul had trained up to become a pastor. He talks about the heritage of faith being passed down the generations from his grandmother and mother to him. This is something that he continues to encourage today in us. That we continue to be mentors to our family in faith passing down the stories and history that has been given to us. I think about grandparents that are able to continue to encourage their grandchildren. This is a blessing and legacy to share the faith with our children and their families. Paul gives Timothy a number of different instructions on how to serve as a pastor. I have seen letters or mentoring happen like this even today with pastors who take on a younger pastor especially one that is freshly out of the seminary to encourage and guide them as they learn even more practical experience. One of my favorite sections of Paul coaching Timothy is where he is encouraging him to know how to talk with and to the different people he will experience in ministry. Ultimately, each of these sections ask Timothy to treat the people he is serving with love and respect and honoring the experiences they have especially ones different than his current experiences. I believe these are great words for each of us as we talk with people in our lives to treat them with respect and as if they were a part of our own family.
Titus is another letter written to a pastor that Paul had trained up. Titus is used as an object lesson by Paul as a Gentile convert who was uncircumcised during the disputes with the more Jewish Christian church in Jerusalem and Asia Minor. This is a letter giving encouragement to Titus to continue teaching the people what they need to learn in order to stay faithful in the Christian faith. As we wait for Christmas, we get to see a beautiful teaching about the appearing of Jesus in 2:13-14, "while we wait for the blessed hope- the glorious appearing of our great God and Savior, Jesus Christ, who gave himself for us to redeem us from all wickedness and to purify for himself a people that are his very own, eager to do what is good." What a great hope we have to look forward to as we wait by the side of the manger and throughout our lives as we wait for Jesus to come back to take us to be with him.
Hebrews is one letter that we don't know the author. We know that it was written for the Hebrew (Jewish) community and as such includes a lot of references to the Old Testament to continue to reinforce the things that Jesus taught during his ministry. One of the interesting searches for me when reading through Hebrews is to look for all of the characters and heroes of the faith that are included. Then to go back and check their original stories in the Old Testament to see what the challenges were that they faced and how they overcame them. One of the most interesting characters that pops up is Melchizedek. He is called the King of Salem yet is also someone whom Abraham offers a tithe (10%) of his possessions. This character is also a priest and most scholars would advocate that this is a representation of God Himself as Jesus is talked about being ordained as a priest in the line of Melchizedek which has no end. Chapter 11 gives one of the best definitions of faith I have found in the Bible, "Now faith is being sure of what we hope for, and certain of what we do not see." This leads off a chapter that talks about many of the heroes of the faith in the Old Testament. For us it would be many of our Sunday School lessons that they are touching on. Sometimes, as you've already learned there is more to the story than you might have learned in Sunday School.