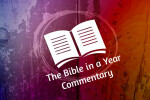 Week 50: December 10-16
Topic: Romans, Colossians, & Philemon
Click Here to Download Daily Reading Guide:
Romans is a letter (Epistle) that Paul wrote differently than any of the other books he authored. The difference is that he had not been to Rome before the writing of this letter. As we look into this letter, we can see some of the points that Paul may have already been teaching many of these other cities and people whom he writes to during the journeys that he takes. Romans gives us as Lutherans a chance to learn directly from the sources that influenced Martin Luther heavily as he struggled with his faith and the concept of salvation by grace alone versus a salvation that included good works which he experienced in the Medieval Catholic Church. This is definitely one of those books were I could highlight just about every verse as something that was key and influential in faith development. Rome was the capital city of the Roman Empire and as a result had so many things to offer both good and bad to its residents. It also was a location where they were Jewish communities that had developed during the displacement of people by Rome.

Paul speaks very plainly to the Romans about sin and literally everyone has fallen short of the glory of God. None of us have lived up to the standards that God has set for us as humans. It all goes back to the Garden of Eden with Adam and Eve. We're not able to keep our hands off the proverbial apple (pomegranate or whatever fruit it might have been). We desire to see things more clearly as if we were God. We want to make the judgements at times as if we were God. In all these times we are attempting to push God out of the picture and hang a huge portrait of ourselves. Now we probably don't realize that is what is happening, but that is the reality. As Paul reminds us in chapter 5:6, "You see, at just the right time, when we were still powerless, Christ died for the ungodly." Jesus was the plan all along even going back to the Garden you can see Jesus in the solution that God gives to Adam and Eve as He is preparing to send them away from the Garden. God said to the serpent (devil), "And I will put enmity between you and the woman, and between your offspring and hers; he will crush your head, and you will strike at his heel." (Genesis 3:15) The devil did reach out to strike ineffectively at Jesus' heal through his ministry as we saw earlier this year. Jesus simply tells him to go away during the time of temptation. Jesus finally crushed the devil fully just at the right time as He died on the cross and rose victorious on Easter morning!

One of the most comforting verses that Paul wrote is at the end of chapter 8, nothing "will be able to separate us from the love of God that is in Christ Jesus our Lord." This is something that Paul writes encouraging the people who will be facing all kinds of tragedies throughout their lives. It is something that I believe God wants each of us to know today. He will never let His love leave us. He will continue to be right there beside us during the more difficult trials that we face in life. Even death Paul tells us will not separate us from God's love. This is a verse to cling to as we head down into the valleys of the shadow of death whether we are traveling ourselves or with a loved one. It is the words that we can hold onto when we close the coffin and walk away the last time from the bed. God is still there! God will always be right there. Nothing will change that.

Paul talks about the relationship that we should have as Christians with the government and authorities in our lives. In a small scale this could be a boss or leader. The large scale for us today is represented in Washington D.C. with our leaders that guide our country. Now there may be many types of debates about who or what will work best there to take care of the issues that we find most important to our lives. The same thing would have been true for all of the Christians in the Roman Empire. I wonder what kinds of debates they started to get into especially as leaders like Nero rose to power. Probably not the first choice for many to all of the people that were underneath him in the empire. However, Paul coaches us here to know that we are to support and pray for our leaders and government. We are to live peace filled lives that are above reproach. If we are able to do that we have nothing to fear besides possibly the taxes, which Paul encourages us to pay properly as they are owed to the government the same today as in his time.

Colossians is a book that focuses on the supremacy of Christ as the people in Colossae were faced with false teachers coming in to tell them they had to add to God's grace with keeping the Jewish ceremonial laws. It is interesting that throughout history, as humans we want to add things that we can do to our salvation. It is something that then gives us the ability to have some control. We can watch our checklist and make sure that we have done the correct things (good works etc.) so that we're ready to go. The harder thing is always to live solely by faith trusting in the promise that God renews daily for us through Jesus! One of the more powerful metaphors that I've encountered in Colossians is 2:13-14, "When you were dead in your sins, and in the uncircumcision of your sinful nature, God made you alive with Christ. He forgave us all our sins, having canceled the written code, with its regulations that was against us and that stood opposed to us; he took it away; nailing it to the cross." What a powerful metaphor those last five words, nailing it to the cross. Can you see that happening if you close your eyes? Maybe it's a piece of paper getting hammered into the cross. Maybe it is one of Jesus' arms or legs that is having a nail driven through it to hold him on the cross on Good Friday. Remember as you see those images, Jesus did it all for you! You are forgiven. You are free!

Philemon is Paul's shortest letter and it is a personal letter. Philemon was a believer that Paul had raised in the faith. The letter is all about relationships and working with people. The predicament that Paul finds with Philemon is that he was a wealthy man who had slaves. One of the slaves, Onesimus, had escaped from Philemon and come to Paul. Onesimus had come and taken care of Paul during one of his times in prison. As a result of their time together, Onesimus came into the Christian faith. It was now time for him to go back home to serve. So Paul is asking for Philemon to treat Onesimus well like a brother in the faith instead of reaching out in anger towards a slave who left. The incredible thing is that Paul asks Philemon to put anything that Onesimus would have cost him onto Paul's tab. Then quickly reminding Philemon that he owes Paul everything as a partner in faith and more as his student. The Bible isn't commending slavery through this book as unfortunately some in the South used to try and advocate. Instead Paul is talking about the relationship between the two people. Onesimus needs to go back to do his job (and well) while Philemon needs to accept him back. I believe the implications for today relate to our business world where we need to live out our Christian lives to their fullest in our workplaces. We need to do the best work that we can and even go above and beyond when able because it is Jesus that we are ultimately serving as we work. It also gives us a model for the relationship between employers and employees. I don't know which side you might land on, but for either person the burden is one Christian love and respect.