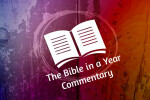 Week #47: November 19-25
Topic: James & Galatians
Click Here to Download Daily Reading Guide:
These two books are at some of the extremes for Martin Luther in terms of the way that he viewed the Scriptures. Galatians was a book that was core to his understanding of God's grace that led to the Reformation. James was a book that Luther struggled with throughout his writings. At some points he even questions whether it should be part of the New Testament or if would be better suited as a writing that could encourage Christians, but not be part of the Bible. As we can look today in our Bibles, James was defined as a Biblical book even if it wasn't the favorite for Luther.
One of the verses that stands out from James comes in chapter 2:17, "In the same way, faith by itself, if it is not accompanied by action is dead." The key point of this section and verse in James is not that action or works provide salvation. Instead it is focusing on the relationship that believers have as they continue their journey of faith throughout their lifetime. It is similar to the words of Paul in Ephesians talking about the works that God has already prepared in advance for us to do. These are not the things that give us the keys to the kingdom. They simply are the fruit of the faith and relationship that we already have. My hope and prayer for anyone is that as they continue to grow in their faith that it will bloom and blossom in a variety of different ways.
James has a lot more of the practical daily advice towards faith compared to some of the great inspirational and theologically deep writings we find in Galatians and the other books of Paul. I'm not sure that any confirmation student should or would ever select the last half of James 4 as the verses to guide their lives and faith journey. However, James is giving practical wisdom similar to that you might find in Proverbs. "Why, you do not even know what will happen tomorrow. What is your life? You are a mist that appears for a little while and then vanishes. Instead, you ought to say, 'if it is the Lord's will, we will live and do this or that.'" Granted these are not always comforting words that we want to hear. They do give us a view into the way that life can be lived even amongst a lot of uncertainty and even fear. Christians during the time of James were facing heavy persecution at the hands of the Romans. I wonder if it felt like the state of fear that we encounter on a daily basis as we are bombarded by the news. It seems like every day there is a major world crisis, local murder, terrorist act, or something to make sensational while bringing anxiety amongst the viewing public. I believe James has something to say to this culture, "Don't worry…trust God." Remember that each passing day is a gift. Use the time that you are given to the best of your ability to work in God's purpose and gifting for you. Finally pray above all else. James closes his book with a section on prayer. This prayer is what guides our principle as a church of inviting pastors and elders over to member's houses at their request to pray over them and anoint them with oil asking God for healing. We recognize that God works through His will to bring about healing which sometimes means a complete healing where God brings the person home to Heaven through faith.
Galatia is located in Asia Minor which is modern day Turkey. There are a couple of different theories on where its exact location is, which is still not fully known. However, Paul wrote to Galatia after having done a missionary tour through the town, and then realizing all of the problems that had crept into the life of the church after he had been gone for a little while. One of the main difficulties was with Jewish Christians who were trying to promote their Jewish culture and beliefs upon all of the people claiming that the traditions were essential to being saved. Paul responds to these "Judaizers" strongly to remind them of the grace they too experienced from God. They were no longer under the burdens of the laws they were trying to promote amongst the new converts. This is some of what influenced Luther heavily as the Catholic Church of the time was essentially making the same mistake over again by requiring a number of additional things in order for people to have the hope of salvation. Luther clearly reminds his readers and students time after time that everything lays squarely on the shoulders of Jesus who has been hung on the cross for us and then raised from the dead three days later. Paul even gets into an argument with Peter about how Peter portrays one side when he is around fellow Jews yet is able to do different things when he is not around his culture. I believe one challenge we face today similar to this is the choice to be open and available to the people that God brings around us. To have the opportunity to love them as Christ did. However, at times I believe we still have a little Peter in us as we struggle when we see someone we know looking over our shoulders.